I do not have pictures to go with this blog post, but I wanted to share with you about something exciting that happened this weekend. (pictures in this post are from Pinterest)
I have now hosted 3 "SWAPS." What am I talking about?... well a swap is when I turn my house upside down and basically into a store. I invite people, they donate their unwanted stuff, I put it all together into a store in my house, and then they come for a fun evening to SHOP for free. To SWAP their unwanted stuff for someone elses.
Not only is this a brilliant way to reduce waste, it reduces our spending too. And we get a night out to have fun with our friends!
I have a section set out with ladies clothing, a hallway for childrens toys, a table of housewares, bookshelves of books and movies, a table of baby items, a table of childrens clothing, and a
miscellaneous spot for stuff I don't know what to do with. I wish I had taken pictures on Saturday night when I had it set up.... but I guess I was too busy.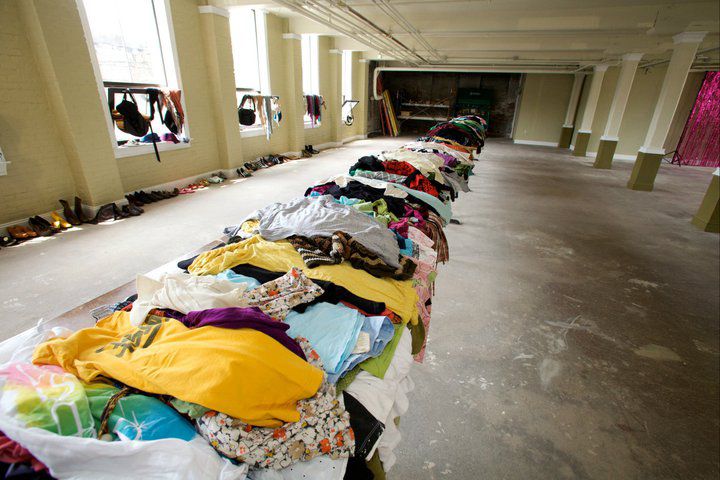 The night begins with 'shopping.' People find things they want, like or need, try things on, visit and eat. This is fun. Multiple people might scope an item. There usually are a few things that several people want. I then randomly assign numbers to people by dealing out cards. The numbers determine the order of who gets to pick their items. #1 goes first and picks their one top item, #2 next and so on. The last number, #11, got to pick two items because then we went backwards through the numbers finishing at #1. So everyone gets two choice picks- depending on what other people have taken. By the time I got to my number (#10) the item I wanted the most (a cute black dress) had already been taken by someone else, so I took my second most desired item (a bottle of perfume). After we go through each persons numbers two times in a nice orderly fashion, I announce that it is free for all time - what ever is left you are welcome to... take as much or as little as you want.
I do not know these people... just a picture from pinterest to give you an idea
I said that this is the third time I've hosted a SWAP, and this time, when I announced free for all, something new happened- there were ladies jumping off their seats and running towards items. It was like boxing day sales! It was hilarious! I guess there were some significant items that people wanted!! I was too slow and missed the few things I had set my sights on :( But don't feel bad for me, I still ended up with a few great items that we are all pleased with.
It was so rewarding to see baskets of our discarded stuff go home with others, knowing that it would have a happy new home and benefit my friends. A game that had gotten old in our home was amazingly exciting in a new home. Clothes my kids had outgrown will clothe littler boys! And my own clothing that I had either outgrown or disliked was now going to be worn by someone else :) My old food processor that my mom had gotten at a garage sale for me, was one of the most prized items taken home by a friend- pure delight!
And another very good upside to the SWAP is that everything that was left at the end of the night was donated to our churches youth garage sale. The garage sale proceeds go to fund the youth missions trips- so our junk helps send our youth on a missions trip :)
I do not take any credit for this idea- my sister in laws friends have been doing this SWAP for a while, and I stole the idea from them. My friends love it, and it has become a bi-annual event here. I had contemplated moving it to the church basement and opening it up to all woman who were interested, but decided that for now this works and is easy to manage.
Alright- I know that this is not an original idea, and I was super impressed to find some large scale events being held that incorporate this idea.
http://www.clothingswap.com/
(American but very cool!)
http://youngandthrifty.ca/the-frugal-life/how-to-organize-a-clothes-swap/
(Steps on how to hold your own swap!)
http://theswapteam.org/happenings/take-off-your-clothes-calgarys-biggest-clothing-swap
(being held in Calgary!)